An Exhaustive List of the Best Episodes of Television Ever
From groundbreaking to magical and gut-wrenching, this list highlights our moment in the golden age of television. Marvels in CGI, cinematography and editing to boot, here's an exhaustive list of the best single episodes in television history. In alphabetical order.
Can I get an, "Ew, David!"
Arrested Development: "S.O.B.s" (Season 3, Episode 9)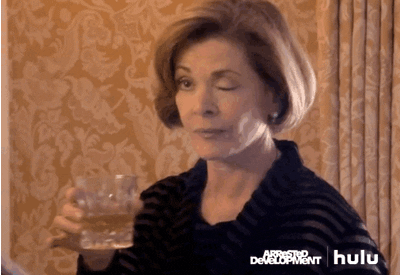 Atlanta: "Teddy Perkins" (Season 2, Episode 6)
The Atlanta Teddy Perkins episode is an absurd, tragic and scary. The episode proves that an Atlanta episode really can lead anywhere.
Battlestar Galactica: "Crossroads" (Season 3 Episode 19)
Battlestar is an undervalued series that would've been incredibly popular in today's streaming format. This episode is a biggie for the series, Starbuck has an important revelation.
Billions: "Golden Frog Time" (Season 2, Episode 11)
The penultimate episode of season 2 is masterful. Damien Lewis and Paul Giamatti are at their best (at each others throats). It's a game of three-dimensional chess played by a couple of sociopaths with a lot of cash.
Black Mirror: "San Junipero" (Season 3, Episode 4)
Easily the best Black Mirror episode, but we would argue this is one of the best hours of television ever. Can't go into much more without spoilers, but you can't tell me you saw that twist coming mid-episode.
Breaking Bad: "Ozymandias" (Season 5, Episode 14)
Buffy the Vampire Slayer: "Hush" (Season 4, Episode 10)
Floating grey demon men in suits who steal you voice. This was Joss Whedon at his best. And it's not a surprise another one of his shows pops up later on the list.
Castle Rock: "The Queen" (Season 1, Episode 7)
Aptly titled "The Queen" this episode of Castle Rock stands alone. And it's better than every other episode of this series combined. Sissy Spacek is inspired. The allegory for understanding and dealing with a loved one with Alzheimer's is poetic and beautifully executed.
Community: "Remedial Chaos Theory" (Season 3, Episode 3)
Curb Your Enthusiasm: "Larry vs. Michael J. Fox" (Season 8, Episode 10)
This is the most Curb episode of Curb Your Enthusiasm. From Larry's "inappropriate" gift to his ongoing fight with Michael J. Fox.
Damages: "Because I Know Patty" (Season 1, Episode 13)
If Damages had come out in 2020 it would've been HUGE. Unfortunately it's a 2007 release before streaming. It did belong to the critically acclaimed golden era for FX. Does anyone else remember when they were they only ones putting out good television?
Good news though, you can stream it on Netflix now.
Dexter: "Born Free" (Season 1, Episode 12)
The first couple seasons of Dexter were some fantastic television. I mean, if you take away the crazy pyro girlfriend from season two. That being said Dexter was at its best at the end of the first season. It knew what it was and wasn't deviating into unnecessary subplots.
Dr. Who: "Silence In The Library" (Season 4, Episode 8)
Fargo: "Loplop" (Season 2, Episode 8)
Firefly: "Out of Gas" (Season 1, Episode 8)
Fleabag: "Episode 3" (Season 2, Episode 3)
Flight of the Conchords: "Bowie" (Season 1, Episode 6)
Bret is dealing with body image issues. David Bowie visits Bret in his dreams to cheer him up. Flight of the Conchords puts New Zealand humor front and center. And we're thankful.
Friday Night Lights: "Mud Bowl" (Season 1, Episode 20)
Fringe: "White Tulip" (Season 2, Episode 18)
White Tulip blends mythology and a compelling story. We have Walter, a father who's struggling to tell his son the truth about how he risked the fate of two whole universes just to save him.
Game of Thrones: Mother's Mercy" (Season 5, Episode 10)
Halt and Catch Fire: "Who Needs a Guy" (Season 4, Episode 7)
Justified: "Bloody Harlan" (Season 2, Episode 13)
Justified is part of the FX pedigree of shows from the late 2000's and early 2010's that's little known but very, very good television. Most in part due to the incredible cast.
Killing Eve: "You're Mine" (Season 2, Episode 8)
The Season 2 finale brings the relationship between Villanelle and Eve to a head.
Lost: "Through the Looking Glass" (Season 3, Episodes 22 & 23)
The last few seasons of Lost tarnish our memory of it. It started going in circles, the writers clearly didn't know how they were going to end it. But at it's height Lost was some of the best television ever. It was a gripping and thought driven show (in the beginning).
Mad Men: "Guy Walks Into an Advertising Agency" (Season 3, Episode 6)
"That's life," says Joan as she and Don sit in the hospital's waiting room. "One minute you're on top of the world, the next minute some secretary's running you over with a lawn mower."
Mr. Robot: "Eps3.4_runtime-Error.R00" (Season 3, Episode 5)
Parks and Rec: "The Fight" (Season 3, Episode 13)
You know the one, Snakejuice, Ron dancing with a tiny hat and Jerry strapped to the top of Donna's Mercedes.
Portlandia: "Alexandra" (Season 3, Episode 9)
"But it's an art project!"
Rick & Morty: "Total Rickall" (Season 2, Episode 4)
Schitt's Creek: "Life is a Cabaret" (Season 5, Episode 14)
Character development at its finest. We see David and Patrick get engaged. Moira shows her vulnerability and takes the final step towards becoming the greatest character in the television history. Stevie shines in Cabaret. (I cry at the end of her number every time) And Alexis is at a crossroads with love and work.
Simpsons: "Treehouse of Horror IV" (Season 5, Episode 5)
Silicon Valley: "Terms of Service" (Season 4, Episode 2)
Stranger Things: 'The Upside Down" (Season 1, Episode 8)
Succession: "This Is Not For Tears" (Season 2, Episode 8)
I mean, the moment Tom grabs a chicken wing off of Logan's plate, takes a bite and throws it back down still makes me laugh.
The Wire: "30" (Season 5, Episode 10)
The Americans: "Start" (Season 6, Episode 10)
The Crown: "Vergangenheit" (Season two, Episode six)
True Detective: "Form and Void" (Season 1, Episode 8)
Alright, Alright, Alright. Matthew McConaughey in the wheel chair at the end, speaking about his daughter and the stars gets me every time.
The Good Fight: "Day 485" (Season 2, Episode 12)
The Magicians: "A Life in a Day" (Season 3, Episode 5)
The Office: "The Dundies" (Season 2, Episode 1)
Twin Peaks: "Zen, or the Skill to Catch a Killer" (Season 1, Episode 3)
The Sopranos: "University" (Season 3, Episode 6)
The Queen's Gambit: "End Game" (Season 1, Episode 7)
VEEP: "Kissing Your Sister" (Season 5, Episode 9)
VEEP is in the top five comedies in television history. It's bitingly funny and incredibly acted. Kissing Your Sister scores especially high because it includes Jonah's uncle yelling at him in a high pitch raspy voice in front of a group of children.
Watchmen: "See How They Fly" ( Season 1, Episode 9)
Wayne: "Who Even Are We Now?" (Season 1 Episode 6)
The Dance scene in the gym alone deserves an Emmy.
What do you think of our picks? Is it an exhaustive list or just exhausting?