Your Summer Reading List Should Include These Books About the Black American Experience
Photo by Radu Marcusu on Unsplash
There's no better way to build empathy than to see the world through someone else's lens. While there's always been a need to step out of our comfort zone and see someone else's perspective, it seems it's now more urgent than ever. The right summer reading list can help. Really.
Each person's world view is shaped by his or her experiences. But books allow readers to get a glimpse of someone else's experiences and even expand their world view.
As protests continue in response to the unjust killing of George Floyd and other black men and women, many are looking to be better informed. Here's a few books to add to your summer reading list that can help put the protests into context and expand your perspective.
Well-Read Black Girl
This anthology of essays written by black women explores the importance of seeing yourself in literature. Various themes and sensitive topics arise in the discussions, including abuse and abortion.
The book's editor, Glory Edim, founded the Well-Read Black Girl National Book Club, an online community that promotes black women's writings and life experiences.
Learn more at wellreadblackgirl.com.
Such a Fun Age
This book by Kiley Reid is a compelling read that highlights many black people face that most white people will never face.
It begins with a black babysitter who was accused of kidnapping her employer's white child at a supermarket. The encounter is filmed and a surprising connection arises that forces both women to reevaluate their friendship and shift their perspectives.
Learn more at kileyreid.com.
The Color of Water
James McBride, a black man, tells a poignant story of his "light-skinned" mother, a woman who did not like to call herself white. She is a determined woman, who overcame a great deal of adversity, raised 12 remarkable black children, and saw every one of them through college — and some through graduate school.
This excerpt from the book shows James' struggle with his identity and his mother's response: "I asked her if I was black or white. She replied 'You are a human being. Educate yourself or you'll be a nobody!'"
Learn more about The Color of Water and McBridge's other books at jamesmcbride.com.
Red at the Bone
The book begins in 2001 at 16-year-old Melody's coming-of-age celebration. She wears a dress that was made 16 years earlier for her mother's celebration that never happened. The author, Jacqueline Woodson, then takes the reader back in time to follow the story of a teen pregnancy that brought together two families from very different circles.
Author Tayari Jones said of the book, "This poignant tale of choices and their aftermath, history and legacy, will resonate with mothers and daughters."
Learn more about Red to the Bone and Woodson's other works at jacquelinewoodson.com.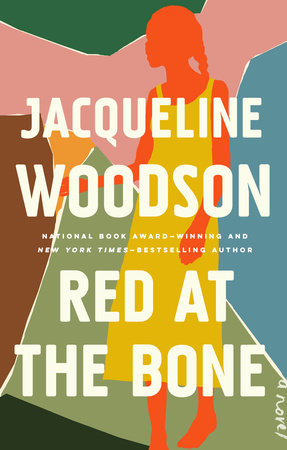 Loving Day
Mat Johnson writes with candor and humor as he explores themes related to blackness and whiteness.
The story follows a man who meets a teenage girl who turns out to be his daughter. Their journey involves ghosts, a mixed-race utopian cult, and a riot on Loving Day — a holiday for interracial lovers.
Learn more about Loving Day and Johnson's other books at www.matjohnson.info.
The Girl Who Smiled Beads
Clemantine Wamariya, with the help of Elizabeth Weil, recounts the heart-wrenching story of her childhood years fleeing the Rwandan massacre and living unspeakable horrors.
At 12 years old, she moved to the U.S., where she was raised by a family in Chicago. She did remarkably well, even graduating from Yale, but the marks of her past remained.
The Hate U Give
This book by Angie Thomas follows the struggles of a young black girl who lives in a poor, mostly black neighborhood but goes to a rich, mostly white private school.
Things get real when she and her friend, also a black teenager, are pulled over by a cop. The officer kills her friend. Now, she's the sole witness to a homicide.
Learn more about The Hate U Give and Thomas' other works at angiethomas.com.
Expand your summer reading list
These are just a few of the plethora of books that dig into the Black American experience. We know we missed some great ones! What else should we be reading right now? Let us know in the comments.
More Artistic Fuel:
Charleston Poet Laureate's New Book is a Poetic Response to the Pandemic and Fatherhood
Related